SP435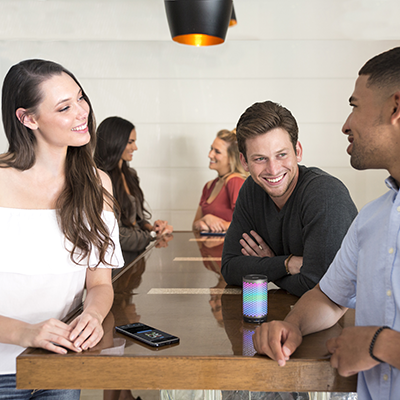 CANZ GLO WIRELESS SPEAKER
---
The 808 CANZ GLO speaker is the life of the party. Enjoy precision tuned dynamic sound with big bass, and enhance your experience with the multi-mode LED light show with 6 color light modes. Bluetooth&reg connectivity lets you enjoy your favorite tunes wirelessly from your smartphone or tablet, or connect to mp3 players and other wired sources using the aux input. Lightweight, compact and able to provide up to 6 hours of rechargeable battery life, it's a crowd-pleaser.

---
Key Features
Enjoy music wirelessly from your smartphone or tablet with Bluetooth«
Precision tuned for dynamic, big bass sound
Step up the party with 6 color light modes: Pulse, Breath, Chill, Chase, Rave, Still
Lightweight fully portable design so you can take the party with you wherever you go
Listen to music up to 6 hours with the built-in rechargeable battery
Product Information
Dimensions : 2.52" wide x 4.33" tall x 2.52" deep
Weight : .5 lb
Product Support
CUSTOMER REVIEWS
rip
by
dertbutter
, on
2019-Sep-03
it worked great it went though my washer i had to open it up and dry it off but worked fine till my brother snaped it in half
Canz Glo
by
Justin
, on
2019-Aug-12
I love my canz glow speaker! I?ve been using it daily for almost 2 years. It?s so much more useful than originally anticipated...you never know how often a little glow comes in handy until you have it. Sounds great too!
CANZGLO Wireless Speaker
by
Karen Martin
, on
2017-Dec-29
Got for daughter who wanted great bass and clear sound, very impressed with the sound quality for such a small and budget friendly speaker. Would highly recommend product.