TT100BK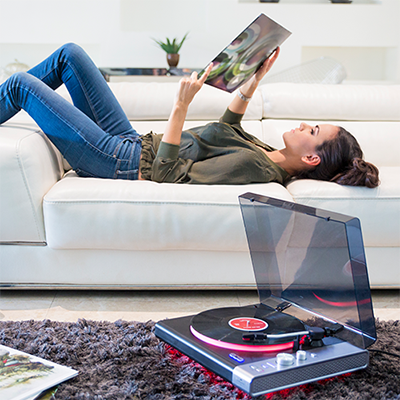 Wireless Streaming Turntable.
---
Now you're the DJ with the new Turntable from 808. Spin any of your tunes by connecting to a wired or wireless system with Bluetooth. Set the stage with a professional anti-resonance, silicone platter for the best sound at all times. Get killer sound anywhere and get the crowd going with the LED light show, and a built-in pre-amplifier, connecting to any device with or without a turntable input.

---
We've Turned
The Turntable
Key Features
Built-in phono pre-amp allows wired connection to any device without turntable input.
Includes AC power cord, 4 ft. RCA audio cable, 4 ft. Aux-in 3.5mm cloth cable, 45 RPM adapter, cartridges, and stylus with purchase.
Ten multi-color LED light modes for every genre of music.
Wirelessly connect to Bluetooth-compatible devices, or to wired systems via dual RCA or 3.5mm output cables, included with purchase. Anti-resonance, silicone platter.
In The Box
Turntable
4' RCA audio cable
4' 3.5mm cloth Aux cable
45 adaptor
Product Support
CUSTOMER REVIEWS
AWESOME....SO COOL! BEAUTIFUL MACHINE!
by
JOHN PELC III
, on
2019-Jun-05
I LOVE this turntable! As a Late Baby Boomer, and an avid Collector of High-End New and Old turntables, this is definitely a Favorite.....SO Much SO, I bought 3 MORE after the first one! It performs as well as a Much More Expensive unit, and is SO COOL with the Flashing Light Mode turned on! NICE!
Turntable collector
by
GEORGE
, on
2018-Dec-30
VERY NICE , BUT WOULD BE NICE TO BE ABLE USE OTHER CARTRIDGES