SP888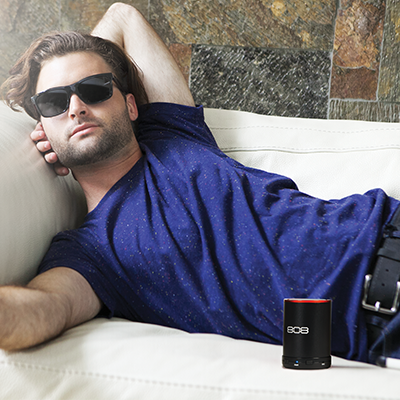 CANZ PLUS WIRELESS SPEAKERS
---
808 CANZ PLUS wireless Bluetooth speakers deliver big sound in a little package, providing the punchiest sound around via Bluetooth wireless or a line-in connection. CANZ PLUS speakers feature a mic for making hands-free calls and a rechargeable battery providing up to 6 hours of playtime from a single charge.

---
Key Features
Enjoy music wirelessly from your smartphone or tablet with Bluetooth«
Powerful bass response from a compact design that's easy to take with you
Play music wirelessly up to 6 hours from the built-in lithium-ion battery
AUX input for other wired sources
Built-in mic for hands-free calls
Wireless 30-foot range
Anodized aluminum casing
In The Box
Speaker
USB Charging Cable
Dimensions: 2.36" wide x 3.19" tall x 2.36" deep Weight: 0.48lbs
CUSTOMER REVIEWS
Amazing
by
Brandon
, on
2019-Dec-21
Amazing audio and high quality sound and im using it now!!!
I'd give it 10 out of 5 stars easily
Very awesome speaker. Bought it for work and it definitely has great sound quality. Also a plus for its size, fits perfectly in the cup holder on my forklift. Recommending this to anyone and everyone I know looking for portable speakers
Amazing Quality
by
Harlee
, on
2018-May-10
Wonderful, wonderful speaker! I love 808!! The sounds comes out so clear and it's easily connected to any Bluetooth device! They are sleek and aesthetically pleasing to the eyes and ears. Definitely a must have speaker!
great sound
by
Darkangel
, on
2017-Aug-16
I bought this and a $50 big name brand speaker and this little speaker was so much better I returned the $50 speaker and bought another one of these. I haven't tried the phone feature yet so I can't say how that works but the sound on this speaker can get really loud and it sounds incredible !!!!!
Buy it!
by
Marcia
, on
2017-Aug-02
My son had one...l decided to invest in one myself. My friends love it and really didn't believe it amplified and produced such a clear sound.