SP450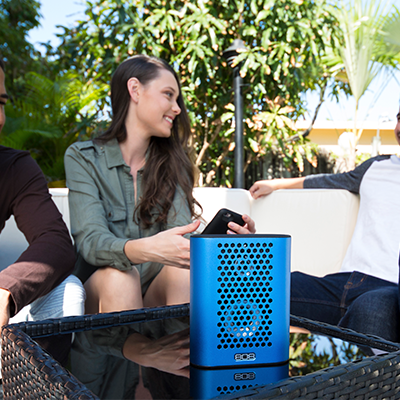 HEX TLS WIRELESS SPEAKERS
---
808 TLS wireless speaker goes with your wherever the music takes you. This Bluetooth speaker allows you to enjoy music wirelessly from your smartphone or tablet, with up to 8 hours of playtime with a rechargeable battery. Take it anywhere - the anodized aluminum cabinet and rubberized button surfaces ensure durability throughout the day. Comes with an auxiliary input to enjoy music from mp3 players and other wired sources. Our 808 precision-tuned dual speaker system with bass radiator, including EQ bass boost, cranks out dynamic sound no matter where the day takes you.

---
HEX TLS
Crisp
Full Range Audio
Key Features
Enjoy music wirelessly from your smartphone or tablet with Bluetooth«
Precision tuned dual-speaker system with bass radiator for huge sound
EQ bass boost cranks out dynamic sound
Listen to music up to 8 hours with the built-in rechargeable battery
Anodized aluminum cabinet
Rubberized button surface
Includes USB charging cable
Product Information
Dimensions : 4.85" wide x 6" tall x 1.87" deep
Weight : 1.35 lbs
In The Box
Speaker
USB Charging Cable
Dimensions: 4.85" wide x 6.00" tall x 1.87" deep Weight: 1.35lbs
Product Support
CUSTOMER REVIEWS
WoW !!
by
Kenny O
, on
2020-Jun-02
SP450 !!!...picked this gem up at a London Drugs clearance sale for a steal.... better speaker than my friend's Bose that he paid $130 to buy...great job 808 !!
I've had the speaker for about 2 months and now it's not shutting off the light stays on indicating that it's still connected to Bluetooth but the music and play comes out of the speaker through my phone
Awesome sound...
by
Leonard L.
, on
2018-Aug-20
The Hex TLS is a great speaker I really enjoy it! I purchased the 808 Canz H20 and thought Wow this is good speaker and wanted more depth in 808 so I ordered the Hex TLS and I was surely surprised on the sound! Great job guys...
Great speaker with lots of bass
by
Claywashere
, on
2018-May-31
This speaker is really good for the price it outperforms some of the more expensive speakers. The bass is very good for music when this speaker is turned up you can hear it thumping
Love this speaker
by
Sam bastin
, on
2018-May-30
I have had many speakers. But non have ever compared to the Hex TLS. the quality is unbelievable, I never have had problems with it since I bought it around a month ago. I have messed around with some other 808 brand speakers. Some of which were bigger and more expensive, and this one was way better
i love 808!!
by
Dylan Ebel
, on
2018-Apr-07
they are so easy to use and very portable and have amazing sound quality and bass! im super excited for this speaker to arrive. website is great and easy to use also, great job 808 audio.
Best speaker under 100$
by
JackFisher
, on
2018-Mar-26
Got it off of Amazon, and it was really cheap considering other speakers were smaller and around 80$ or more. When it got here, I paired it with my phone and tried out a few songs. With the bass boost option on it easily out performs the 130$ bose soundlink color a friend of mine has.
Wow!
by
Nick Z
, on
2018-Mar-10
I use this speaker with the Echo Dot, my phone and my tablet. The sound quality is truly impressive!
Speaker in my backpack goes EVERYWHERE with me.
by
Brad Heath
, on
2018-Jan-28
Seriously fantastic performance. I've had it for a few months. I use it at work , home , everywhere. The sound is loud for the price and size. The quality is awesome. I am in no way disappointed. 808 makes a quality product that I can depend on. Keep it up!! Love this model.
Excellent speaker
by
E.Black
, on
2017-Nov-24
I have had several bluetooth speakers over the years. This one ranks at the top for overall sound quality. The bass is much nicer than other speakers, and the treble is rich, too. Great product!
Wonderful speaker system
by
Ernest Suggs
, on
2017-Aug-09
I have this speaker tied to the bluetooth on my phone. I enjoy the deep bass and also the clarity in which this speaker works. Thank you for designing a quality system which provides unparalleled sound.
This speaker puts others in the the price range to shame. The bass, clarity, mids, all are good. The aluminum body has a premium feel and look.