SPKA700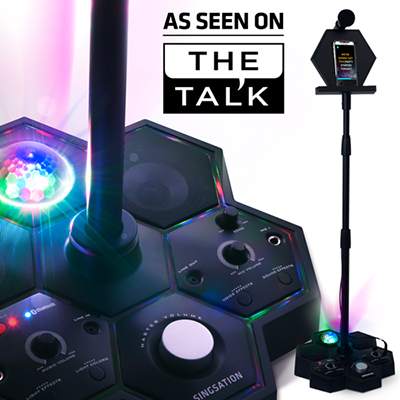 PERFORMER DELUXE All-in-One Party System + Wireless Speaker with Bluetooth, Stand and Microphone
---
Grab the mic and make the spotlight your own with the Singsation Performer Deluxe All-in-One Party System! Its room-filling sound, 16 light effects, 8 sound effects and 10 voice effects will make you look and sound like a star. The microphone stand includ
---
Key Features
Great for all ages (4-84!) - stand adjusts from 2' to 6' height
Best stand-up all-in-one karaoke machine available
Bluetooth - connect your smartphone or tablet for thousands of songs and karaoke videos from YouTube
Voice effects - harmonize, high pitch, low pitch, chipmunk and many more
Put on your own concert - 16 different room- and ceiling-filling light shows
Sound effects - 8 effects to make your performance even more fun like air horn, cheers and DJ scratch
Includes: Speaker, microphone, AC power adapter and microphone stand (includes a place to hold your smartphone, tablet or other device)
Product Information
Dimensions : 4.25"H x 12.13"W x 12.63"D
Weight : 4.9 lbs.
In The Box
Party system base
Microphone stand
AC power adapter
Device cradle and locking knob
Microphone
Velcro strips
CUSTOMER REVIEWS
Party Systems & Karaoke
by
Kittie Encinas
, on
2019-Feb-22
I gave this system to my grandkids for Christmas and they loved it. We all got a chance to sing with the Karaoke system and everyone had a great time. This is a wonderful party system and sets up in about 5 minutes. We love it.
Brings The Family Together
by
Emmi E
, on
2019-Jan-18
This great, easy to set up system is such a success in my family that it has a place of honor in the living room. The kids are rocking out solo and bringing in friends to join in the fun. The sound is excellent. The light shows set the mood for moving and grooving.
Brought this in as a "group" Christmas gift for the three kids, ages 9 to 15, to share. The eldest was quite skeptical........not for long!!! The karaoke system was lightweight and easy to assemble. The speakers are fabulous and the lighting made the mood that much "funner". Waaaay thumbs up!
PERFORMER DELUXE All-in-One Party System + Wireles
by
candice williams
, on
2019-Jan-03
SPKA700
by
Kittie Encinas
, on
2018-Dec-26
I gave my grandsons this karaoke machine for Christmas. His parents set it up in minutes. Everyone at the party decided to sing so the last two hours were spent with everyone testing their singing ability. It was so much fun! Best present ever!!!
Great Fun for Groups of Friends
I ordered it , it arrived quickly and right before my Thanksgiving dinner party. It was a great addition to our get together. It's easy to set up and once you do everyone knows a song that they want to sing. It brought everyone together, even the teenagers that were too cool eventually sang! Fun!
You'll have hours of fun with this machine. Once you start singing you won't be able to stop. Even the people that are usually too cool for school will warm up to it. I took it out on Thanksgiving after we had dinner and everyone joined the fun. So glad I bought this.
Great customer service
by
Michelle
, on
2018-Dec-03
I thought my packages were stolen and notified 808audio. They were swift in their response and communication with me. They even offered a replacement. Turns out it was a UPS error,delivered to wrong address. 808 gave me great customer service and the product works great! I am very pleased!
Amazing!!!
by
Patricia H.
, on
2018-Nov-12
Easy to assemble and plug in. Once I plugged it in and held the power button, it turned on. The lights came on and it was easy to pair it with my Bluetooth. Used it with my iTunes music and I love how loud it can get. I am very happy with the purchase.
Party in a box
by
Dolores
, on
2018-Nov-06
Took on a weekend getaway with family and friends and it was a hit. Everyone wanted to showcase their skills and we all had a great time.
Fun for all
by
Carlos
, on
2018-Nov-06
This is a great all in one system with many features. The sound is really good too.
Great for fun and performance
by
Christopher Cardenas
, on
2018-Nov-06
This is more than a karaoke machine. It is great for home and party entertainment. I just ordered mine after using my friend's unit. With extra input for guitar, effects, lights, and a good sounding speaker, I can use this unit for small pro gigs.
Karaokee
by
Ashley
, on
2018-Nov-05
I love it this! Its small enough to store easily and perfect for my small apartment. It has really good sound and gets pretty loud. My friends love coming over for a fun karaoke night. Even if you dont use it for singing the speaker quality is nice and the lights are a nice touch.
Amazing
by
Ahmed Douik
, on
2018-Nov-02
I received this karaoke system around a week ago and had a lot of fun with. I was nicely surprised by the product as a whole and more specifically the quality of sound is amazing. It has nothing to do with cheap amplifiers that make you sound like a cat. Overall, I am very satisfied with this purcha
SO EXCITED
by
Juanita
, on
2018-Nov-02
Anxiously waiting for my 808 Deluxe System to arrive so I can Rock Out !!! Sould be arriving any day. ROCK ON SUPERSTAR
Coolest and best karaoke machine
by
Adriana
, on
2018-Nov-01
As soon as it came we set it up and tried it and loved it. We have kids in the household and even they enjoy it. Love how loud it goes and Bluetooth is a nice clear clean sound. We also enjoy the voice changes. Great for parties or just if you want to have some fun at home. We love it!!!
Karaoke system
by
Margie contreras
, on
2018-Oct-24
Looking forward to getting my karaoke system and having family time
positive review
by
evelyn jett
, on
2018-Oct-24
i'm very excited to use this karoke system with my friends, family, and grandchildren..