THUMP WIRELESS SPEAKER
Model: SP200
---
808 Thump wireless speaker is the must have affordable, portable Bluetooth speaker. Thump produces quality rich sound for its small size. Stream your music via Bluetooth or connect using the Aux-in jack to make listening to your music whenever and wherever you want a breeze. Thump speakers feature a rechargeable lithium polymer battery providing 6 hours of playtime at normal volume from a single charge.
Available Colors:
$17.99
$19.99
+ Free Shipping
---
Portable and Compact, Delivers A Powerful Punch
THUMP speaker is light and compact making it easy to take with you whenever on the go. High-quality driver component delivers amazing depth and power. Perfect for your office, in the car, poolside or to pack with you on vacation.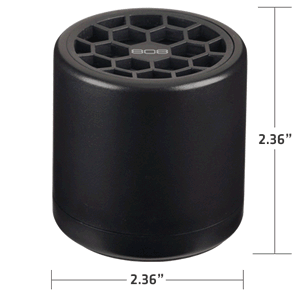 Wireless Bluetooth Streaming
Designed to work with your Bluetooth-enabled devices such as smartphone, tablet, and laptop or direct connect with your audio device via the Aux in Port and 3.5 mm cable.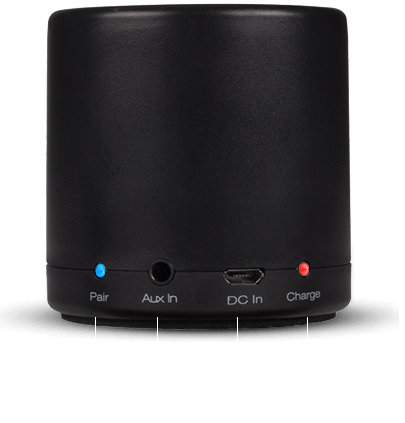 Key Features
High-quality sound from a compact Bluetooth speaker
Up to 6 hours of playtime from rechargeable battery
Easily pair and connect wirelessly or wired through Aux input
Product Information
Dimensions : 2.36H x 2.36W x 2.36D
Weight (Kg/lb) : 0.37 lb
In The Box
Thump Speaker
Micro USB Charging Cable
CUSTOMER REVIEWS
Small And Mighty
by steve stone, on 2017-Sep-14
This little speaker is awesome, it has the sound of a normal size stereo speaker. I've had it over 6 months, the quality is fantastic the sound hasn't changed since the day I bought it. My girlfriend bought one right after hearing mine, we're both getting another, you can't beat the value.
National map
by Jennifer Cornuaud, on 2017-Jun-15
Good sound
by Pecanpatty, on 2017-Apr-15
Sound is good for a good price. However, when I turn the speaker on and when it pairs, it make a ridiculously loud noise indicating that it is on! Just a quiet little beep would be sufficient!!!
MY 808 speaker
by Deborah, on 2016-Dec-13
Just bought my speaker from Walmart and brought it home. Right out of the box it paired up quickly, no problem.Also no problem with having to re-pair each time, it does it automatically when I turn on the bluetooth with my chrome laptop. Perfectly loud. Love it!
Surprising
by Justine, on 2016-Dec-06
My mother picked up the 808 Thump speaker for me after I mentioned I was looking for a good Bluetooth speaker. I was skeptical at first because i had never heard of the brand before but this speaker really packs a punch. It pairs quickly with all of my devices and has great sound quality.
thump 808 blue tooth speaker
by javier, on 2016-Dec-02
I bought the lilttle Bluetooth speaker it works good and the quality is good
Big Boom in a Small Package
by Humlett Jarnigan, on 2016-Nov-03
The 808 Thump is small enough to fit in your pocket and looks good just about anywhere. It's extremely durable, as i have put the poor thing through hell.
Perfect
by Luke, on 2016-Sep-25
Great speaker amazing quality compact and small so good had to buy another one best speaker around!!
The best by far
by Eathanhonea, on 2016-Sep-19
The bass is fantastic and the sound maches.
Amazing Powerful Little Speaker!!
by LollyW, on 2016-Aug-28
Unbelievably loud and great bass for such a little speaker. It literally moves (hops) across a flat surface with every THUMP of bass. So i guess that's where they got the name. Best loudest little speaker i've ever heard. Great buy!!
Great Speaker Great Price
by Scheba, on 2016-Jul-19
For such a small device for only $20, you simply can not beat this speaker! Its so tiny, cute AND portable. It's perfect for when you just wanna listen to music in your room alone or something. totally for the $20. Not kidding!!