CANZ WIRELESS BLUETOOTH SPEAKER
Model: SP880
---
808 CANZ wireless Bluetooth® speakers provide big sound in a little package, providing the punchiest sound around via Bluetooth wireless or a Aux-in connection. CANZ speakers feature a powerful rechargeable battery providing hours of playtime at home or wherever you go.
Available Colors:
$24.99
$29.99
+ Free Shipping
---
"CANZ are a convenient option to listen to music anywhere wthout sacrificing sound quality"
- ET Online
Portable Little CANZ deliver BIG Sound...
The 808 CANZ Bluetooth Wireless Speaker delivers rich sound in a lightweight, portable design. Small size and stylish durable, anodized aluminum casing makes this the perfect bluetooth speaker for your desk or to pack with you to the beach, picnic and basketball court.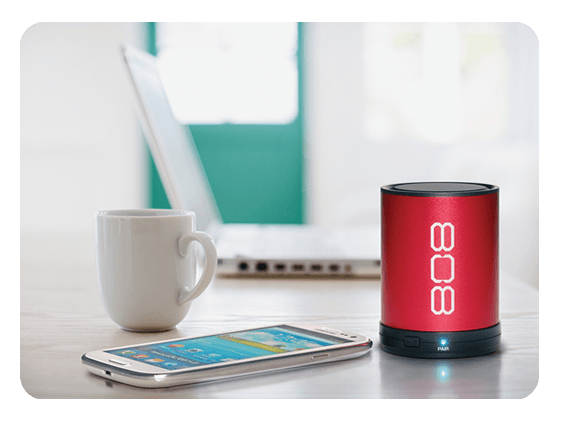 Connect The Way You Want... Wirelessly or Wired
Canz will seemlessly pair wirelessly with your Bluetooth enabled smartphone, tablet, music player and laptop. Available Aux-in jack and provided 3.5mm cable allows you to direct connect with any audio device.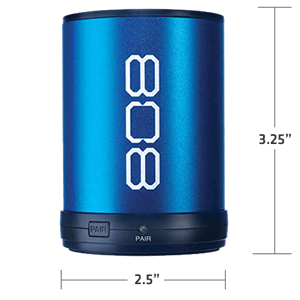 High Capacity, Li-ion rechargeable battery
Canz has built-in Li-ion rechargeable battery that provides up to 6 hours of playback on a single charge. Convenient micro USB port and USB charging cable provide for easy recharge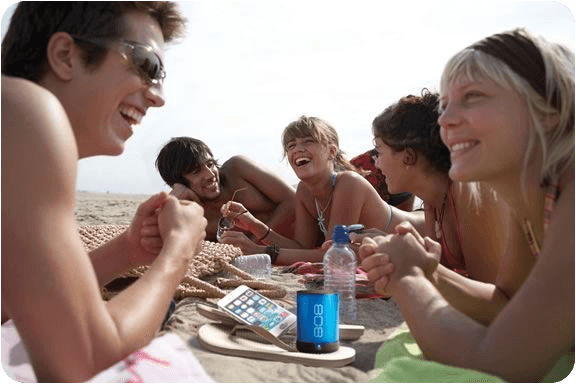 Key Features
Little can, big sound from this Bluetooth speaker
Rechargeable battery for ultra-portability up to 6 hours per charge
Bluetooth wireless: stream music wirelessly from your Bluetooth enabled device
Available in Black, Blue, Red, Silver, Purple
Product Information
Dimensions : 3.19H x 2.36W x 2.36D
Weight (Kg/lb) : 0.5 lbs
In The Box
CANZ Speaker
Micro USB Charging Cable
3.5 mm Aux-in Cable
CUSTOMER REVIEWS
fantastic
by Bob Nelson, on 2017-Jul-06
recently purchased this product. It is awesome< The size of the product and the sound are excellent
So far great
by Gary, on 2017-Jul-03
I am very impressed as such a small speaker, I'm sure some of the higher models do better but this one does really well
Sounds great
by Donny v, on 2017-Jun-28
My wife and myself.. outside our home listening to the 808 ... it's very Sweet.. in Ham lake mn... Thank you for the Product... it's a great sounding speaker.. I've listened to alot of them ... it's 1 of the best in the price range Under 100 ... keep it up folks
Amazing quality
by Brandon, on 2017-May-17
This speaker is amazing!!! from the price to the sound quality it is very good.
The greatest Speker EVER
by Scott, on 2017-Feb-27
I have had it for a year now. And I think it is the best, it has great sound for it being so small. The battery last for a long time too. And you can get I warranty with it to. And I never regret buying it.
canz for mountainbikes
by randy c, on 2017-Feb-09
after searching for a high quality durable wireless speaker, i found canZ 808. metal case good woofer excursion i love subs and this thing moves like it should with no distortion. i zip tied it into my bottle holder and you can feel it in the handlebars. had to pick up a 808 thump for my wife too.
Great
by Maggy, on 2016-Dec-17
I was simply AMAZED when I powered this speaker up. I almost dropped it the sound was so bold and clear. Rich room filling sound
Excellent!
by John King, on 2016-Nov-24
Great sound from a very mobile, compact unit! Looks super cool too. Feels heavy, sturdy and well built. Very happy with my purchase!
THe Best!
by R Brickley, on 2016-Nov-13
Absolutely THE BEST mimi Bluetooth speaker on the market for the money!
Impressed
by James Allen, on 2016-Nov-06
So I have had my 808 Canz for about 4 years now and this thing is still going hard. For the price I am convinced that you can't find a better little Bluetooth speaker. Now I want a bigger one.
Cool little speaker
by Harvey, on 2016-Oct-29
Very loud compact just really an amazing speaker for the money
Awesome
by Dan, on 2016-Aug-09
This tiny speaker delivers huge sound for a small price! I have owned 808 products before and was in no way surprised. You guys have a customer for life!!
canz 808
by Scott Rowe, on 2016-Jul-03